Extend the reach of your existing company network to another building and avoid the congested wireless traffic on the 2.4 GHz band. The EnGenius ENH500 High-Powered 802.11n 5 GHz Wireless Outdoor Access Points/Client Bridges that feature 600mW transmit power and a 13 dBi embedded directional antenna for long range coverage, wireless speeds up to 300 Mbps and two Fast Ethernet (10/100 Mbps) ports.
Features:
Supports connectivity to an IP Surveillance Camera

Additional Fast Ethernet Port can be used to connect an IP Surveillance Camera to the wireless network
Up to One Mile of Wireless Connectivity
600mW transmit power and an internal 13 dBi directional antenna with a more focused beam array than omni-directional antennas delivers extreme long-range point-to-point connectivity
6x Speed Over Legacy 802.11g Access Points

Compliant with 802.11b/g/n standard and MIMO delivering up to 300 Mbps throughput over wireless for greater overall performance and connectivity
Ruggedize Housing Design Withstands Harsh Environmental Conditions

IP55 Rated Waterproof housing
More Secure Wireless Communication

Industry standard encryption: WPA/WPA2, MAC Address Filtering
Customizable Wireless Access for Different Company Departments or Workgroups

Supports 802.1q mapping of SSIDs and up to four VLANs
Monitor and Manage Several Access Points from the Convenience of Your Desk

EZ Controller™ software for Windows, Mac OS X or Linux provides a suite of tools for IT managers, installers and network administrators to manage and maintain wireless networks. (Available as a free download).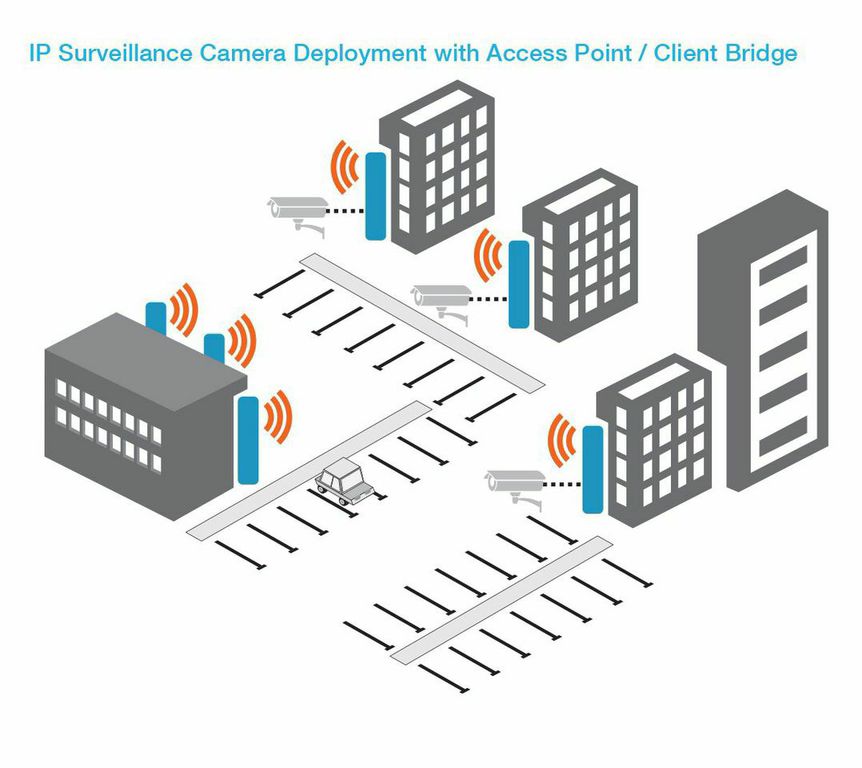 EXTEND YOUR COMPANY NETWORK TO ANOTHER BUILDING
Sometimes cost, the surrounding landscape or bodies of water make it difficult to extend a company network using cabling. That's why the ENH500 is ideal for creating a point-to-point Wi-Fi bridge between buildings to extend a company network to an additional building.

Operating in the 5GHz mode, the ENH500 can link two buildings together with high speed connectivity in while avoiding more common and congested 2.4GHz interference.
CONNECT SURVEILLANCE CAMERAS TO A COMPANY NETWORK
When an ENH500 endpoint is configured in WDS Station mode and pointed at a WDS configured Outdoor Access Point while at the same time connected to an IP Surveilance Camera it provides a robust surveillance solution for monitoring of building entrances, shipping docks, or parking lots.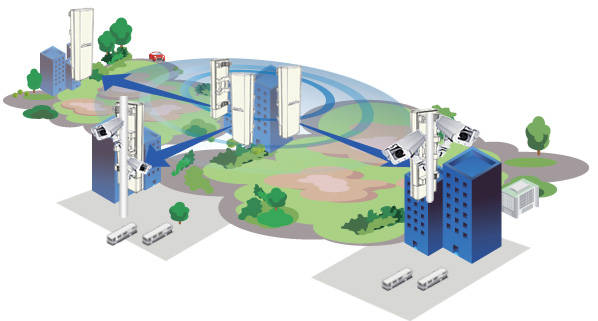 DESIGNED FOR HARSH OUTDOOR CONDITIONS
The ENH500 features an IP55 waterproof housing to protect it against rain, sleet, and moisture. It also includes a cable accessory that prevents rain and dew from getting into the devices from a cable connection.
Additional Features:
MCU/RF: Atheros AR7240 + Atheros AR9280
Memory: 32 MB
Flash: 8 MB
High-output power up to 28dBm delivers superior range and coverage
Fully interoperable with IEEE 802.11a/IEEE 802.11n-compliant devices
High-speed data rates up to 300 Mbps make the ENH500 ideally suited for handling heavy
data payloads such outdoor security camera, video streaming, etc.
WPA2/WPA/ WEP/ IEEE 802.1x support and MAC address filtering ensure secure
network connections
RSSI indicator makes it easy to select the best signal for Access Point connections
Power-over-Ethernet capabilities allow for flexible installation locations and cost savings
Four SSIDs let clients access different networks through a single Access Point, and
assign different policies and functions for each SSID
Multi-function operation (CB/AP/WDS/APRouter) modes provide flexible deployment
The AP-Router mode with PPPoE/PPTP, DHCP server function support in special network
deployment in which the CPE also serves as Internet gateway
QoS (WMM) support enhances performance and user experiences.