This high-speed long-range Outdoor Wireless-N Client Bridges/Access Point operates on the 2.4GHz frequency band and features an internal directional antenna designed to send its signal at distance up to 2 miles.

When used in pairs, the ENH202 is ideal for creating a point-to-point Wi-Fi bridge between buildings to extend a company network to an additional building without incurring the expense of digging trenches to lay fiber cable over several hundred or a few thousand feet; or if trenching isn't even an option.
Features:
Provides connectivity to a more precise area outdoors or indoors

When configured in Access Point mode, the ENH202's more focused beam from its internal directional high-gain antenna is ideal for venues and facilities where longer more focused range is critical, for example in warehouses between aisles where workers need to send inventory stock using barcode scan guns or other inventory tracking or POS systems.
Supports connectivity to an IP Surveillance Camera

Additional Fast Ethernet Port can be used to connect an IP Surveillance Camera to the wireless network so companies can monitor their properties day and night and keep employees and guests safer.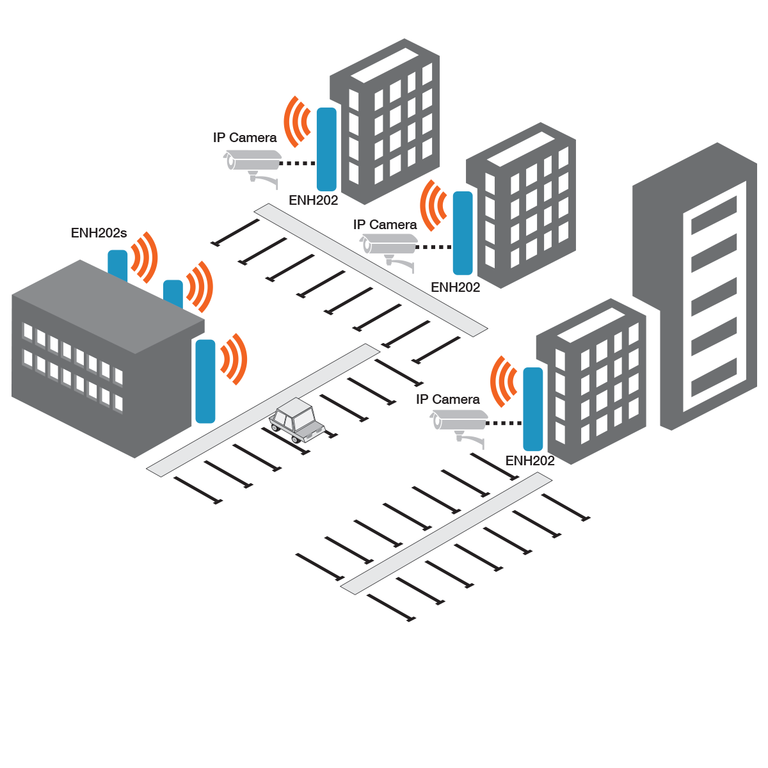 Delivers Long-Range Point-to-Point Connectivity

When used with another ENH202 in a Point-to-Point deployment, the devices' 800mW transmit power and internal 10 dBi directional high-gain antennas deliver a robust longer range signal to each other —up to 2 miles!
Faster Wireless Speeds for Better Overall Video Streaming and File Transfers

Up to 300 Mbps when connected to another 2.4 GHz Wireless N300 device. Complies with IEEE802.11b/g/n standards
Customizable Wireless Access for Different Company Departments or Workgroups

Supports 802.1q mapping of SSIDs and up to four VLANs
Sets Up Quickly and Easily

Includes a proprietary

PoE

(Power-over-Ethernet) kit comprised of a

PoE

injector and Power Adapter. Also includes a mast mount kit with binding strap.

Monitor and Manage Several Access Points from the Convenience of Your Desk

EZ Controller™ software for Windows, Mac OS X or Linux provides a suite of tools for IT managers, installers and network administrators to manage and maintain wireless networks. (Available as a free download).
DESIGNED FOR HARSH OUTDOOR CONDITIONS
The ENH202 features an IP55 waterproof housing to protect it against rain, sleet, and moisture. It also includes a cable accessory kit that prevents rain and dew from getting into the device from a cable connection.
Additional Features:
MCU: Atheros AR7240
Memory: 32 MB
Flash: 8 MB
Topology: Infrastructure, ad-hoc
Operation Mode: Access Point/Client Bridge/WDS bridge/WDS AP/WDS, ST/Client Router
LAN: DHCP server/client
VPN: VPN Pass-through
1 x Reset button
High-output power up to 29 dBm delivers superior range and coverage
High-speed data rates up to 300 Mbps make the ENH202 ideally suited for handling heavy data payloads such outdoor security camera, video streaming, etc.
RSSI indicator makes it easy to select the best signal for Access Point connections
Power-over-Ethernet capabilities allow for flexible installation locations and cost savings
Four SSIDs let clients access different networks through a single Access Point, and assign different policies and functions for each SSID
QoS (WMM) support enhances performance and user experiences.